When faced with a Spill or other Emergency Situation contact First Response on a 24/7/365.
Trust the Company That Is Trusted by Others.
First Response operates a dedicated Spill Response and HazMat Response Team that responds to emergency situations on a 24-hour basis:
Highway and Roadway Response – Motor Vehicle Collisions, Rollover, Product Loss
Fixed Facility – Product Loss, Clean Up, Recovery and Remediation
Crime and Trauma Scene Clean Up
Natural Disasters
Aircraft Response – Aircraft Emergencies, Suspicious Packaging
Rail – Derailment, Product Loss
We are the Professionals!
Our Team is comprised of highly skilled and trained professionals that will mitigate any hazardous materials incident. Our crews are outfitted with the latest in equipment, technology, and training. We will respond to any situation, no matter the nature of the emergency.
Anywhere, Any Time!
With one phone call, you can rest assured that your chemical spill, diesel spill, hazmat spill or other crisis whether on the road or at your facility will be handled effectively, efficiently from the initial incident to completion.
All our activity is based on Provincial and Federal Regulations as they pertain to our Technical Labour and Equipment.
First Response has obtained the Ministry of Environment Approval for one of the most complete Environmental Compliance Approval (ECA) in Ontario.
First Response operates a fleet of vehicles dedicated to Rapid Deployment and owns and operates a state-of-the-art MOE approved Hazardous Waste Disposal Site which operates 24/7.
ONE PHONE CALL – 24-HOUR TOLL-FREE EMERGENCY LINE (866-774-5501)
Will activate the necessary crew and equipment from one of our several response locations.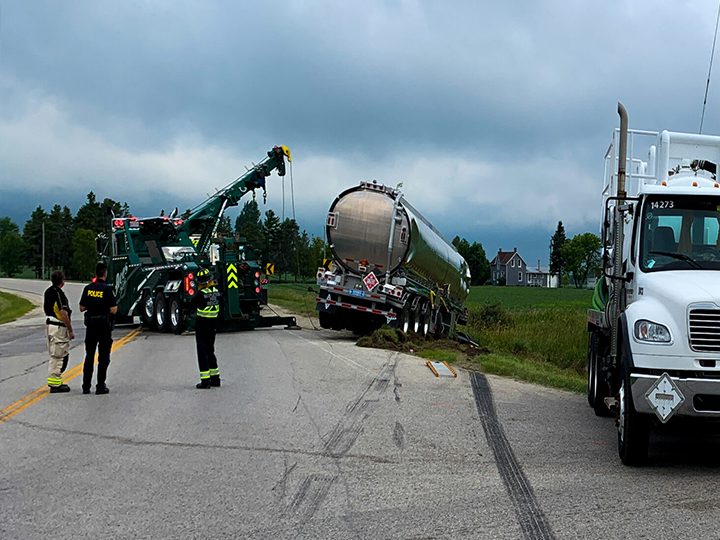 Highway Response
First Response responds to a variety of roadside and highway incidents whether it is a truck accident or truck rollover, hazmat, or non-hazardous material spills; cargo tank truck emergencies; diesel fuel spills; chemical spills or LTL (less than load) emergencies.
Under the Environmental Protection Act and Transportation of Dangerous Goods Act you have a legal responsibility to immediately activate environmental mitigation of the incident.  Failing this, it will be done for you with no accountability
Do not leave your incident response up to a roadside towing operation when you can have a secure plan in place.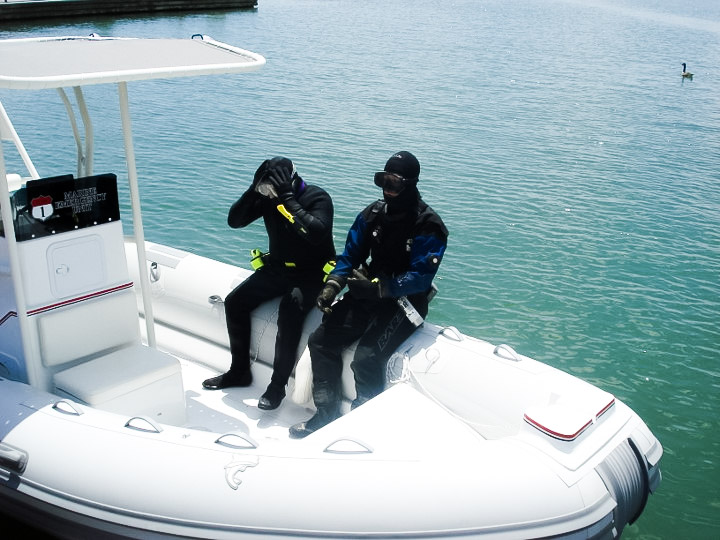 Marine Response
Marine spills can have serious effects on aquatic life causing widespread and permanent environmental damage after every spill, and an inevitable loss of marine resources with serious economic repercussions.
First Response's Marine Spill Response Division is ready to respond to spills in the marine environment.
First Response maintains an inventory of several types of Work Boats, Absorbents, Containment Boom, and other marine related items to respond to any type of water body.
We currently provide containment services for loading and offloading to the shipping industry in the Great Lakes.
Our specialized Dive and Recovery team can recover sunken vessels using air bags and skilled Certified MOL Divers.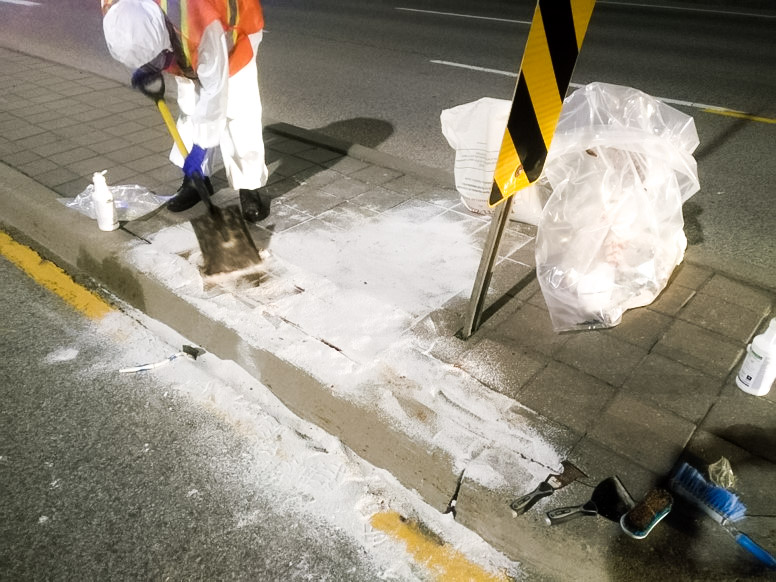 Crime and Trauma Scene Services
Whether it is in the initial discovery or in the aftermath of an accident, assault, murder, suicide or natural causes, your situation may require proper remediation of Biohazardous Materials.
Biohazardous and Pathological waste are heavily regulated thus only certain companies can handle these materials
First Response is one of the few environmental companies in Ontario that can legally transport Biohazardous and Pathological waste.
As a proud Founding Member of Ontario Trauma and Crime Scene Responders Association we take the lead on ensuring your property or event is returned to you so you can carry on with some peace of mind.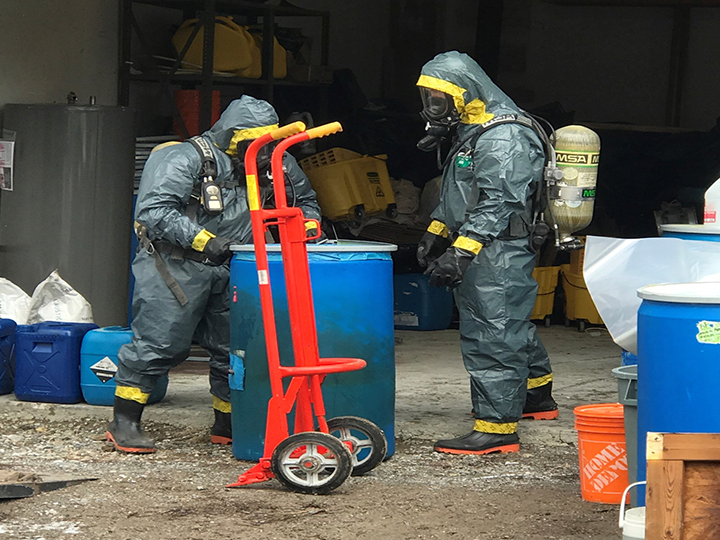 Clandestine Labs
Meth can be made anywhere, and commercial buildings, houses, apartments, hotel rooms, trailers, barns, vans, and storage units are just some of the structures used for labs.
First Response has been supplying Law Enforcement agencies with the necessary skills and technical equipment for more than 20 years. Our crews have removed toxic flammable chemicals and cleaned hundreds if not thousands of Clandestine or Grow op buildings.
First Response is a trusted partner to many Law Enforcement Agencies and has been authorized as a secure facility to store evidence in relation to criminal matters.  Using our complete ECA, the storage and or destruction of the contamination is conducted in house.
If you are exposed or own a property that has been host to illegal activity, First Response can mitigate and turn your possession back to you, contaminant free.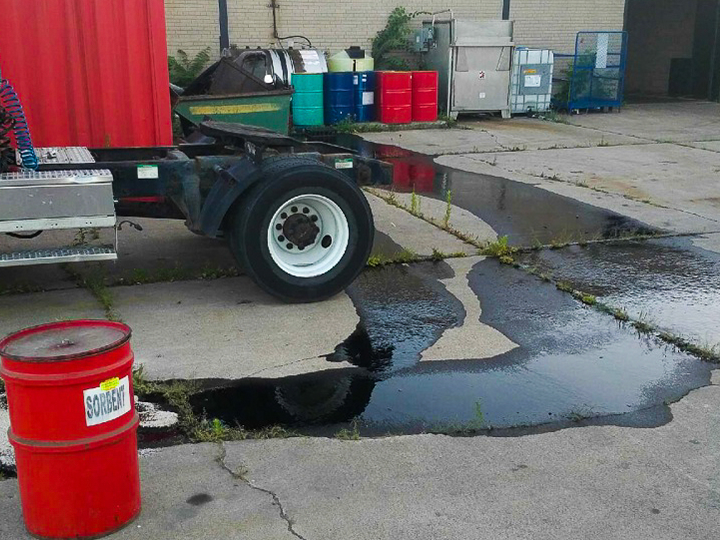 Chemical spills, facility explosions, collapses, and fires…
Time is critical to ensure the safety of your staff and community, protect further exposure to the natural environment and to minimize revenue and asset loss.
First Response's Teams have specialized training and equipment needed to quickly contain and remediate any incident. Our team is ready to resolve the emergency easily including aiding first responders with search and rescue tasks and providing advanced capabilities not necessarily afforded to local emergency services.
Every large loss claim has its own unique set of circumstances, First Response has the expertise to manage them.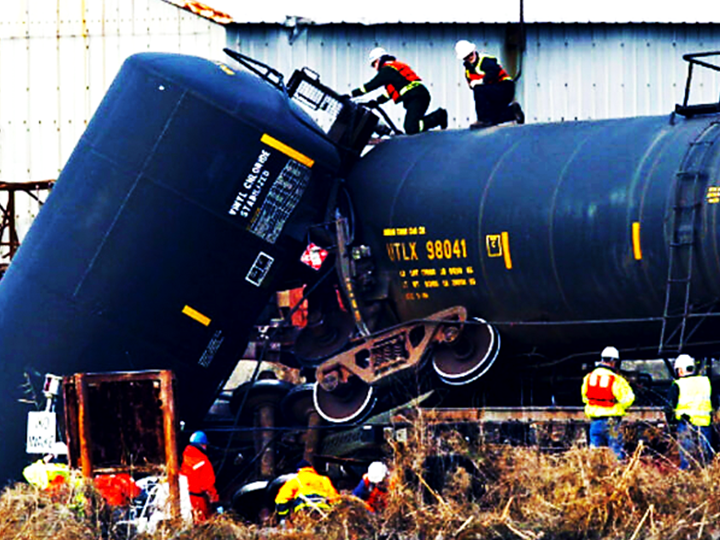 Rail Emergencies
Even though rail is the 'safest' mode of transportation for hazardous materials, incidents do happen and those involving trains are often complicated by the location, quantities and the variety of materials which can potentially and dangerously interact with each other.
Immediate availability of varied specialized resources is critical to the success of any rail response.
First Response provides emergency response to rail incidents accessing our vast network of specialty service, industry experts to quickly respond and mitigate any rail emergency.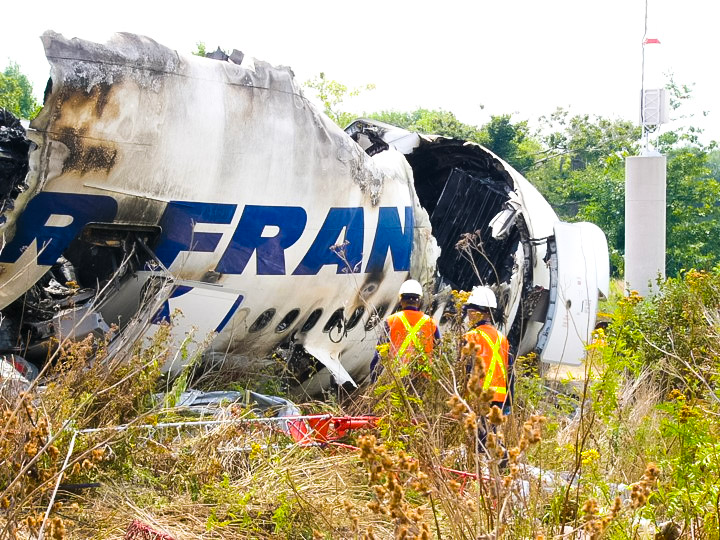 Aircraft Emergencies
Disastrous/Large Area Aircraft Fuel Spills on runways, aprons, taxiways, maintenance areas, and fueling transfer areas can halt operations and cost Air facilities thousands in revenue due to critical downtime. First Response's Responders have been used to respond safely and successfully to large and small Aviation Spills throughout Ontario.